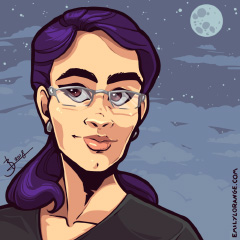 -

2008-Present

Freelance Illustrator
Boulder, Colorado (USA)

Creation of various media for typically small business and individual clients. This includes character illustrations, comic page layout, artwork, and character design. Projects are done with clear goals, needs, and deadlines. I maintain constant contact between parties to ensure satisfaction with each phase and delivery of finalized projects.

Recent projects containing the artist's illustrative contributions include:

2019

Route One Zine - Route One is a Pokémon Zine celebrating the partners who travel with us throughout our journey - Starter Pokémon! Raising money for Kids Help Phone.

Law And Order: A Symmarah Fanzine - A fanzine dedicated to the relationship between Fareeha Amari and Satya Vaswani // Pharah & Symmetra.

2018

Blink!, an Overwatch Fan Zine - Featuring 50+ pages of art and stories based around the lovely Lena Oxton, it's sure to get you shouting cheers!

Decadence, A Steven Universe Fan Zine - An Unofficial SU FanZine based on the themes luxury and decadence. Proceeds will go to the Point Foundation.

The Rocket Queen Zine, an Overwatch Fan Zine - A project for fans of the wonderful Fareeha Amari of Overwatch! 24 Artists and 5 writers have been selected for this one time project full of love and talent!

Dungeonwatch, an Ovewatch Fan Zine - Featuring 58 pages from the minds of 29 artists and 7 writers, you'll be sure to roll a nat 20 with this one.

Musicwatch, an Overwatch Fan Zine - This zine is a music-themed Overwatch art zine, featuring original art by a variety of talented artists. The zine is for-profit, meaning that all extra (non-production) profit will be split evenly amongst the artists.

Artists of Azeroth, a World of Warcraft Fan Zine - The theme this time around is going to be focused on you! Well, specifically, your experiences through out the many World of Warcraft expansions.


2017

Kirby's Zine Land, a Kirby Fan Zine - Kirby's Zine Land is a charity fanart zine based on the 25 year old beloved Kirby franchise of games. All profits are being donated to Meals On Wheels America.

Terrainica, an Independent Board Game - Creating a series of game pieces with focus on illustrative world building for a physical board game, owned by Terrainica, Inc.

Celebrations, an Overwatch Fan Zine - Celebrations is a charity fan zine based on the seasonal events that have been showcased within the world of Overwatch.All profits are being donated to Doctors Without Borders

Pipe Dreams, a Videogame Fan Zine - A collection of artwork celebrating water in the world of gaming. All proceeds of the digital PDF of the zine will be donated to Water.org, supporting access to clean water and sanitation around the world.

-